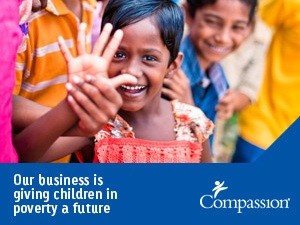 Compassion is an international Christian child development and child advocacy ministry committed to working in partnership with local churches around the world to foster the spiritual, economic, social, physical and emotional development of children living in extreme poverty in over 26 developing countries.
Compassion's holistic child development programs are unique in being delivered in partnership with local churches in developing countries. These local congregations can best identify the specific needs of children in their community and are able to contextualise our programs to drive change in their own community. Because we believe that it's not enough to simply feed a child in poverty without introducing them to the source of life, Jesus, our programs address not only the physical needs of children and their families, but also their spiritual needs through Bible-based teaching.
The heart of Compassion:
Christ-centred
We are dedicated to caring for the poor in response to God's call and giving hope to the hopeless by spreading the Gospel of Jesus Christ in an age-appropriate, culturally relevant and non-coercive way.
Child-focused
Children are the hardest hit by poverty, the least able to change their circumstances, and at the heart of Jesus' ministry. We address the holistic needs of the individual child so that they can become responsible and fulfilled Christian adults and change agents in their communities.
Church-based
We partner with local churches to implement our holistic child development model because they are uniquely placed to understand the real needs of their community and foster an environment of stability.